Theatre
Theatre Courses for Everyone
Courses are available in both studio and lecture-style settings within the Theatre, Dance & Film department. Courses vary in levels from beginner to advanced. Many of the courses within the department fulfill the Fine Arts core requirement for the College. Please see catalog for a complete listing.
Performances
To supplement the academic courses offered, the department also produces several performances throughout the year, for which all students are encouraged to audition. One need not be a major or minor to participate in the productions. A .5 credit is offered for those participating in any performance sponsored by the department. Opportunities both on and off stage are available, including but not limited to acting, stage management, and technical crew.
Mainstage Productions
These performances are directed by faculty as well as guest artists from New York, Boston, and Providence.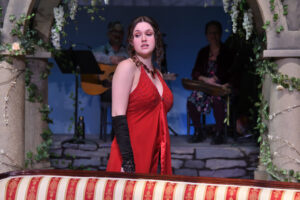 Independent Student Productions
Students who wish to produce a show/event may propose an Independent Student Project, in which they will be provided with consultants and some resources to aid in their project. Independent Student Projects must be approved by the Theatre, Dance & Film faculty. There are many ways to make theatre a part of your experience at Providence College.
Other Theatre Opportunities
Community Outreach
There are always opportunities to reach out to the surrounding Providence community and bring the theatre arts to others. Past outreach experiences include a drama club program with St. Pius V School, across the street from Providence College, the creation of a human rights training film for the Corliss Institute, and an on-campus dance program for children.
Work-Study Opportunities
There are several on-campus positions available for student workers. The production office/box office allows students to gain experience in theatre administration and/or promotion. The scene shop employs student workers to help build sets, hang lights, and receive a general understanding of technical theatre. In the costume shop, student workers have the opportunity to help with the construction and procuring of costumes.
Guest Artists and Workshops
The Department of Theatre, Dance & Film sponsors guest artists throughout the year who may work on the current production, provide workshops for interested students, or give an informal performance or presentation. These artists may be directors, actors, costume designers, lighting designers, musicians, voice specialists, or movement teachers.
Statement of Diversity, Equity, and Inclusion
The Department of Theatre, Dance, and Film is committed to creating art that explores the entirety of the human experience. We are committed to building our department to "reflect the diversity of the human family" (PC Mission Statement). Our efforts to create an equitable environment in which all artists are valued will be complex, and change of this magnitude does not happen quickly. Nevertheless, we commit ourselves to consciously creating space where diverse voices and experiences are seen, heard, and validated. We commit ourselves to proactively recruiting faculty, staff, and students so that our department may more closely reflect the true diversity of the human condition. We commit ourselves to using our positions as leaders and teachers to amplify diverse voices. We hope that these actions, and more, will help us create an environment in which all feel welcome and valued, regardless of race, biological sex, religion, age, socioeconomic class, national origin, gender identity, sexual orientation, neurological or physical ability, or legal status.
Finally, the Department of Theatre, Dance & Film services the Providence College community as well as the surrounding area with accessible opportunities to enjoy these art forms in performance.