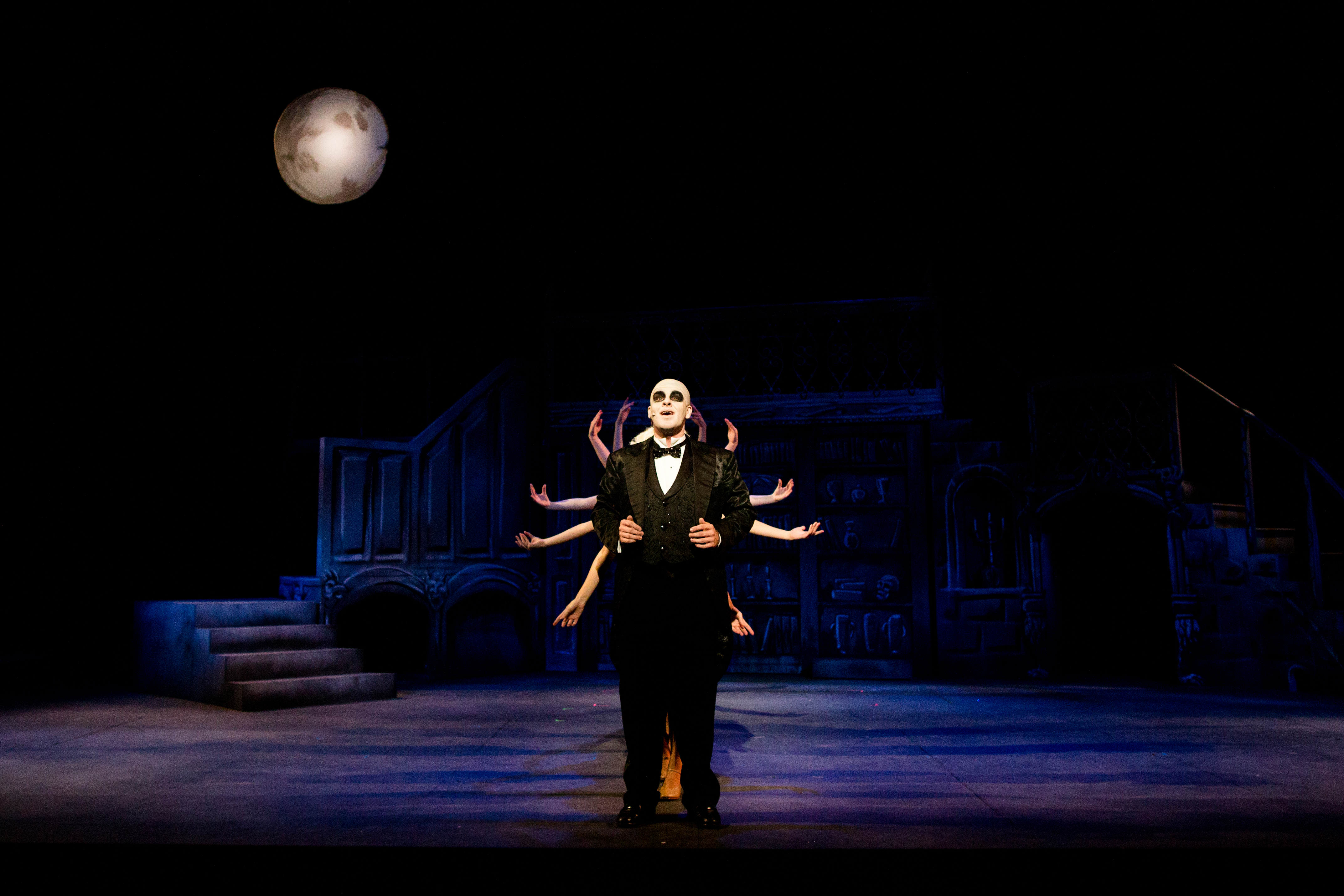 Upcoming 2018-2019 Season
Visit our Box Office page regarding ticket sale procedures.
All plays taking place in the Angell Blackfriars Theatre and the Bowab Studio Theatre are at
our NEW TIME 7:30 PM on Fridays and Saturdays, and 2PM on Sundays, unless otherwise noted.
Bat Boy: The Musical
Story and book by Keythe Farley and Brian Flemming. Music and lyrics by Laurence O'Keefe.
Directed by Jimmy Calitri, Musical direction by Lila Kane choreography by Jennifer Hopkins, Assistant to the Director Ava McDonald.
October 24-28, October 31 & November 1-4
Wednesday-Saturday at 7:30 pm, Sundays at 2:00 pm
THE STORY: Based on a story in The Weekly World News, BAT BOY: THE MUSICAL is a musical comedy/horror show about a half boy/half bat creature who is discovered in a cave near Hope Falls, West Virginia. For lack of a better solution, the local sheriff brings Bat Boy to the home of the town veterinarian, Dr. Parker, where he is eventually accepted as a member of the family and taught to act like a "normal" boy by the veterinarian's wife, Meredith, and teenage daughter, Shelley. Bat Boy is happy with his new life, but when he naively tries to fit in with the narrow-minded people of Hope Falls, they turn on him, prodded by the machinations of Dr. Parker, who secretly despises Bat Boy. Shelley and Bat Boy, who have fallen in love, run away together from the ignorant townsfolk and have a blissful coupling in the woods, but their happiness is shattered when Meredith arrives and reveals a secret. Soon the entire town arrives and hears the shocking story of Bat Boy's unholy origin.
"Big laughs…It's remarkable what intelligent wit can accomplish—a jaggedly imaginative mix of skewering humor and energetic glee." —NY Times. "Smart, playful and funny…a giggling cult hit" —NY Magazine. "Outrageously silly and totally charming." —NY Daily News. "At the end of the show, you've been gleefully, outlandishly entertained." —NY Newsday
Angell Blackfriars Fall Dance Concert
Directed by Wendy Oliver, featuring guest and resident choreographers.
November 16 at 7:30 pm
November 17 at 2:00 pm
Lord of the Flies
By William Golding, adapted for the stage by Nigel Williams.
Directed by Patrick Mark Saunders & John Garrity
Amidst a global conflict, ten children are stranded on a remote island. They band together as a tribe, but factions soon form once the threat of a monstrous beast is fearfully planted in their minds. A contemporary reimagining of a literary classic, this production throws boys and girls side-by-side in a competition for power that dares to explore our capacity for cruelty.
January 25 & 26 at 7:30pm
January 27 at 2:00pm
February 8 & 9 at 7:30 pm
February 10 at 2:00 pm
You're a Good Man, Charlie Brown
Book, Music and Lyrics by Clark Gesner. Based on The Comic Strip "Peanuts" by Charles M. Schulz.
Additional Dialogue by Michael Mayer. Additional Music and Lyrics by Andrew Lippa.
Currently celebrating its 50th Anniversary! YOU'RE A GOOD MAN, CHARLIE BROWN (Revised) is a fresh approach to the all-time 1967 classic, based on the beloved comic strip by Charles Schultz. Sally Brown joins Charlie Brown, Linus, Lucy, Schroeder, and Snoopy in this charming revue of vignettes and songs. Two new songs, "Beethoven Day" and "My New Philosophy," have been added to the twelve numbers from the original version, which include "My Blanket and Me," "The Baseball Game," "Little Known Facts," "Suppertime," and "Happiness."
Independent Student Production
Directed by Teddy Kiritsy
John Bowab Studio Theatre
February 15 & 16 at 7:30 pm – SOLD OUT
February 17 at 2:00 pm – SOLD OUT
Creative Writers Festival
Written, directed, and performed by PC students
March 23 at 7:30 pm
March 24 at 2:00 pm
Ken Ludwig's Moon Over Buffalo
In the madcap comedy tradition of Lend Me a Tenor, the hilarious Moon Over Buffalo centers on George and Charlotte Hay, fading stars of the 1950's. At the moment, they're playing Private Lives and Cyrano De Bergerac in rep in Buffalo, New York with 5 actors. On the brink of a disastrous split-up caused by George's dalliance with a young ingénue, they receive word that they might just have one last shot at stardom: Frank Capra is coming to town to see their matinee, and if he likes what he sees, he might cast them in his movie remake of The Scarlet Pimpernel.
April 5 -7 & April 12-14
Fridays and Saturdays at 7:30, Sundays at 2:00 pm
Spring Dance Concert
Student choreography showcase
April 26 at 7:30 pm and April 27 at 2:00 pm
Student Film Festival
Short films in a variety of styles
May 2 at 7:00 pm
Program and dates subject to change
Join Our Mailing List
If you are a person with a disability and require an assistive device, service, or other accommodation to participate in this event,  please contact the Central Reservations Coordinator (401-865-2070; M-F 8:30 a.m. – 4:30 p.m.) well in advance of this event.