Site Home
>
What's Playing? | 2020-2021 Mainstage Season
What's Playing? | 2020-2021 Mainstage Season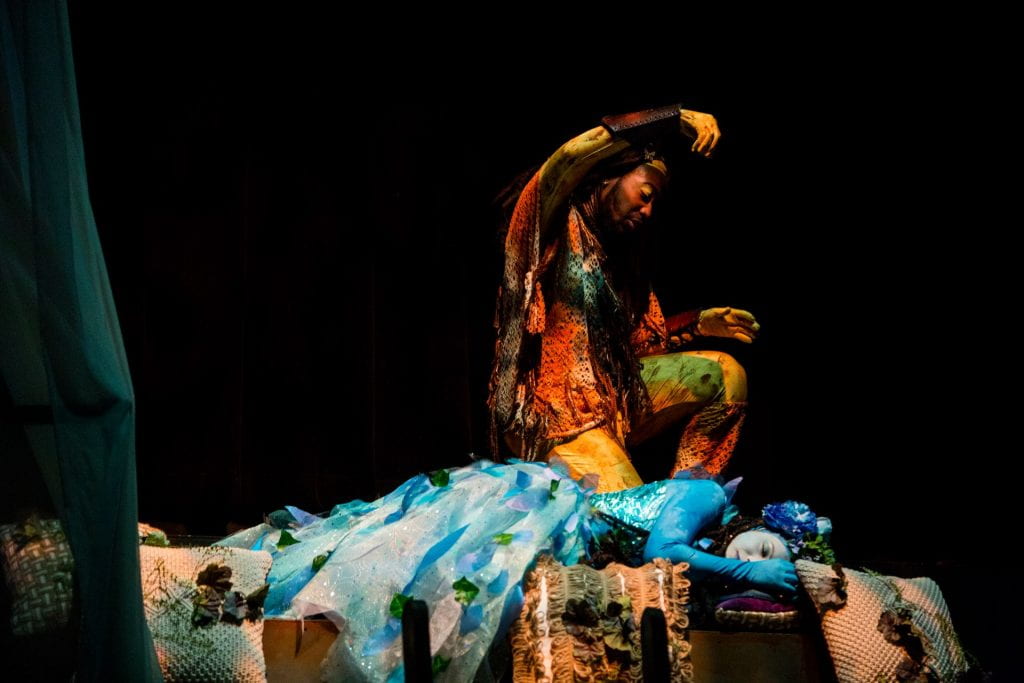 2020-2021 TDF Production Season Action Statement
The directors of theatre productions that will be presented this year by the Department of Theatre, Dance & Film at Providence College have committed to opening up space in the theatre season to tell Black centered stories and highlight Black voices in order to diversify our exploration of the human condition. We believe that the arts, and theatre in particular, should reflect and respond to the current activism and racial reckoning in our country.
As we move forward artistically and pedagogically, we are conscious of our responsibility to ensure that there will be a place for artists of color to be seen and heard in the theatre created at Providence College.
WATCH: TDF's "A Season of Change" panel discussion for PC's Homecoming:
READ: This feature story about TDF's 2020-2021 Action Statement and Season written by Charlotte Smith '20 & '21G. Special thank you to Charlie Joyce.
A message from Jimmy Calitri
Managing Director of Theatre at Providence College
In an abundance of caution, and due to ongoing safety restrictions and physical distancing limitations as we navigate forward to a very different academic year up ahead, we want to share with you all that our 2020-2021 Theatre, Dance & Film season of productions will be focused on our student's educational and creative experience.
To our loyal general public patrons, we invite you to please continue visiting this website for the most up-to-date information on our season, including ways to access select live streams, video recordings, and other virtual opportunities as they may become available, in lieu of in-person experiences.
Please note that the Smith Center Box Office will remain closed for this upcoming season.
Thank you for supporting the Theatre, Dance & Film department at Providence College in our mission to continue providing our students with the highest quality of performance opportunities that are safely possible during this unprecedented time, and please continue to stay safe.
2020 – 2021 Providence College
Theatre, Dance & Film Production Season
Updated: October 23, 2020
Up Next…
Cast(e)
A devised performance piece inspired by Black voices and responding to racial injustice
Directed by Erin Joy Schmidt
Using the various concepts and exercises from the medium of devised theatre, we will work as an artistic collective to create a piece of movement-based theatre that is reflective of and responsive to our country's systemic and deep-seated racial inequities. Our company of artists will be diverse, and through physicalized improvisations, character conception and story development, we will consciously create theatre that makes space for black characters and black stories to be told at Providence College.
Recently premiered…
Echoes: Voices from the Void
Directed by Patrick Mark Saunders and Tobias Wilson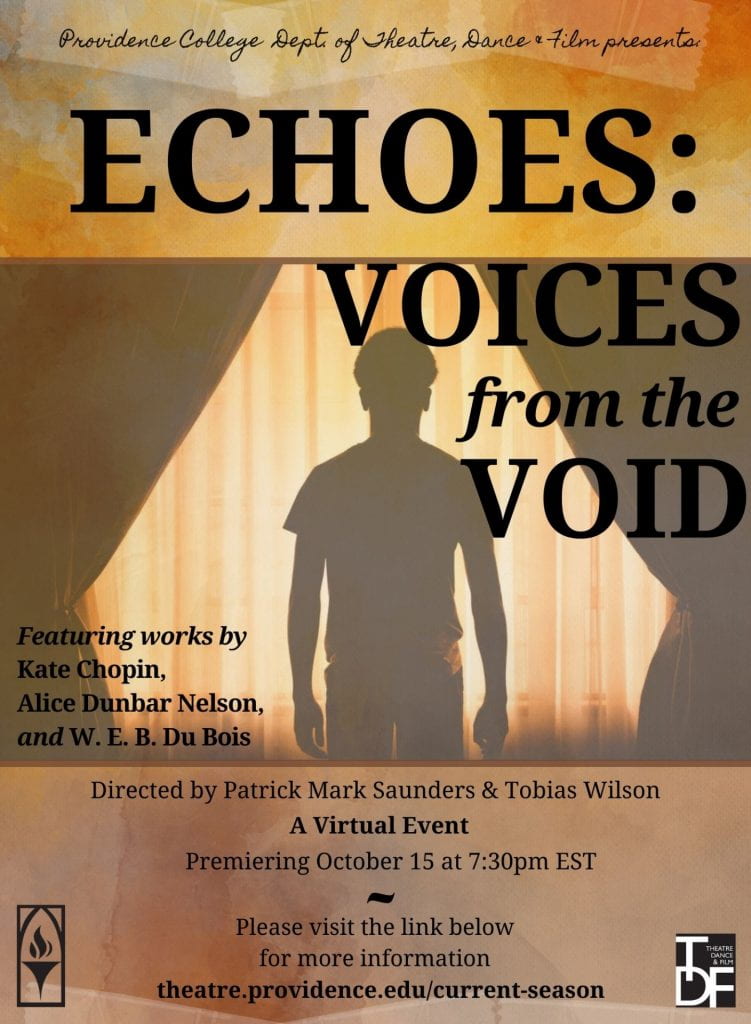 Literature will be translated into live performance as students explore the process of adapting narrative works for performance. Through a collaborative rehearsal process, students will reinterpret these original texts and, in so doing, identify (or radically reimagine) the ways that these works still speak to us today.
Echoes: Voices from the Void – Digital Playbill

(opens in a new tab)
Coming Soon…
Blackfriars Dance Concert
Directed by Dr. Wendy Oliver
The Providence College Dance Company will perform its annual dance concert featuring original dance works created by student choreographers under the direction of Dr. Wendy Oliver.
Writers' Summit: A Series of Original One-Act Plays Centered on Social Justice Themes
Directed by John Garrity
February 6 & 7
Embracing the theatre's potential to serve as an instrument of personal growth and social change, the Department of Theatre Dance and Film will welcome original short plays by students from all sectors of the college community that reflect upon our individual responsibility to shape the society in which we live, to reckon with the social justice realities of our times, and to model pathways to a better future. Playwrights will be encouraged to personally consider what it means to be alive in a time of social upheaval and to develop stories that demonstrate the ways people from different races and cultures experience daily life in our community.
Writers interested in contributing work to this project should contact John Garrity at jgarrity@ providence.edu.
Violet: The Musical
Directed by Jimmy Calitri
April 8-11 & 16-18
Violet is a musical with music by Jeanine Tesori and libretto by Brian Crawley based on the short story "The Ugliest Pilgrim" by Doris Betts. It tells the story of a young disfigured woman who embarks on a journey by bus from her farm in Spruce Pine, North Carolina, all the way to Tulsa, Oklahoma in order to be healed. Exploring themes of race relations in the United States during the Vietnam War and how childhood trauma can significantly contribute to adult life and self-worth. The musical premiered Off-Broadway in 1997 and won the Drama Critics' Circle Award and Lucille Lortel Award as Best Musical.
Spring Dance Concert
A showcase of student choreography performed by the Providence College Dance Company.
Nat Turner in Jerusalem by Nathan Alan Davis
Directed by Daniel Jameson 21′
In August 1831, Nat Turner led a slave uprising that shook the conscience of the nation. Turner's startling account of his prophecy and the insurrection was recorded and published by attorney Thomas R. Gray. Nathan Alan Davis writes a timely new play that imagines Turner's final night in a jail cell in Jerusalem, Virginia, as he is revisited by Gray and they reckon with what has passed, and what the dawn will bring. Woven with vivid imagery and indelible lyricism, Nat Turner in Jerusalem examines the power of an individual's resolute convictions and their seismic reverberations through time.
Student Film Festival
Short films in various genres, judged by members of Rhode Island's professional film community.
*Please note: Productions and dates are subject to change.