Dance
Dance Courses for Everyone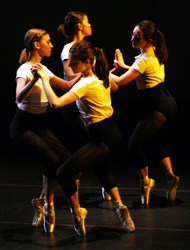 It is not necessary to be a Dance Minor to take a dance course. Dance courses are available for beginners, intermediate, and advanced students in areas including ballet, modern dance, jazz dance, and dance composition. All courses are three credits and include a complementary academic component that may focus on dance history, dance criticism, or dance injury. Most courses fulfill the Fine Arts core requirement for the College. Please see catalog for complete listing.
Dance Company
The PC Dance Company has about 25 members and holds auditions each fall at the beginning of the semester. Dance Company members typically dance about 8-10 hours each week, mostly in the evenings. There is a mandatory Company class once each week, and rehearsals throughout the semester. Choreography is done by faculty, guest artists, and students. Although the predominant style of the Company is modern dance, both jazz dance and ballet are also important. Company class is taught by faculty and guest artists, in order to expose students to a range of styles and teaching approaches.
Dance Club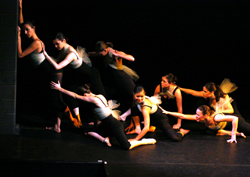 The Dance Club is open to all students; no audition necessary. This student-run organization holds two performances a year that include dance styles such as ballet, tap, jaz, hip hop and contemporary. The club has also performed pieces in the style of modern, ballroom and Broadway. The Dance Club also holds Sunday classes taught by current Providence College students and Dance Club alumni. that are open to all PC students.
For more information, contact Dance Club President, Julia Hurton at jhurton1@friars.providence.edu.
Other Dance Opportunities outside the department include Dance Team, cultural clubs, aerobics classes, and recreational classes sponsored by student groups.