Callback Theatre Alumni Callback
The Providence College Theatre Alumni Web Page
In the spotlight…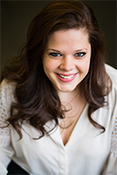 ALISON R. SIMONE '16 is an NYC based stage manager currently pursuing her MFA in Stage Management at Columbia University under the guidance of Michael J. Passaro.  Broadway: Kiss Me, Kate (Roundabout Theatre Co.) Off Broadway: NAMT, (Mint Theatre Co.),  New  York: 2017 Spring Gala (Roundabout Theatre Co.), Alkestis, Babette's Feast (Columbia Stages). Regional: Baskerville, Funny Girl, Disney's The Little Mermaid, Disney's Newsies, Bye Bye Birdie, Crazy for You, The Graduate (Forestburgh Playhouse). When not pursuing theatrical endeavors, Alison enjoys spending time outdoors, on the water, and cuddling her roommate's adorable cat, Gracie. Check out more at www.alisonsimone.com
CAT MCDONNELL '11 Cat McDonnell studied theater and music performance at Providence College and is a graduate of the Second City Conservatory, Second City House Ensemble, and iO Theater training programs in Chicago. She has performed with The Second City Theatricals aboard the Norwegian Gem and can be seen regularly on stage at iO with The Armando Diaz Experience and Denver, as well as at The Annoyance and MCL theaters. Cat enjoys writing original songs and has toured them in Mexico with comedy music trio Chica Go! and in suburban Illinois with serious music duo Side Pocket. She is also the Outreach & Development Director at MCL Chicago.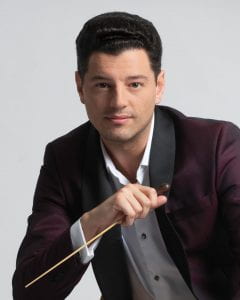 Troy Quinn '05 is quickly establishing himself as one of his generation's most versatile young artists. Lauded for his energetic and riveting, yet sensitive conducting, Quinn is in his fourth season as Music Director of the Owensboro Symphony Orchestra in Kentucky. He is also the Music Director of the Venice Symphony in Florida where he conducts both the classical and pops concert series. Quinn is also the former Music Director of the Juneau Symphony.
Equally at home in the pops and commercial world, Quinn has performed and recorded with some of the most popular artists of our time, including The Rolling Stones, Barry Manilow, Josh Groban, Jennifer Hudson, and Jackie Evancho. In addition to his concert work, Quinn has worked extensively in the television and recording industry in Los Angeles, having made appearances on such hit T.V. shows as Fox's GLEE, NBC's The Voice, and The Tonight Show with Jay Leno while recording on films like The Call of the Wild and Indiana Jones and the Kingdom of the Crystal Skull. He serves on the faculty at the University of Southern California's Thornton School of Music and has previously served as a faculty member at Providence College.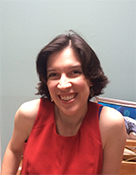 Colleen (Rosati) McCormack '07 is the Manager of Creative Development at Disney Theatrical Group in New York City. In her roles as Dramaturg and Line Producer, she has worked on such shows as The Lion King, Aladdin, Newsies, Peter and the Starcatcher, Mary Poppins, Tarzan, The Little Mermaid, Beauty and the Beast, AIDA and the upcoming Frozen both on Broadway and Internationally. She has developed The Hunchback of Notre Dame, Freaky Friday, High School Musical, and Camp Rock for licensing to professional, amateur and school theaters, and oversees the musical adaptations for Disney's Broadway JR collection, including such titles as Mulan JR., The Lion King JR. and Winnie the Pooh KIDS. Colleen was a contributor and editor for Newsies: Stories of the Unlikely Broadway Hit and can be heard singing on the Hunchback of Notre Dame Studio Cast Recording. Outside of her work with Disney Theatrical Group, she is a founding member of Two Turns Theatre Company and served as a producer for 8-Minute Musicals at the New  York Musical Festival.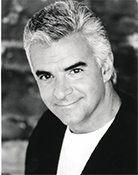 John O'Hurley '77 was a ubiquitous sitcom guest star in the '90s, appearing on countless shows, notably Seinfeld as Elaine's cheerfully clueless boss. After graduating from Providence College with a B.A. in Theatre, he honed his craft on stage before embarking on a successful soap-opera career, but his flair for comedy landed him in prime time. Due to his high-profile Seinfeld role and quick wit, he became a sought-after host and commercial pitchman, and also lent his distinctive timbre to animated series and radio. In 2005, O'Hurley was a contestant on the first edition of Dancing with the Stars. The favorite to win, he lost to General Hospital's Kelly Monaco. The decision was so controversial that the two ended up with their own dance-off special, which O'Hurley won. In 2006, he took over as the fifth host of Family Feud, a position he held until 2010. Aside from acting work, O'Hurley has enjoyed success in music. He is a self-taught pianist and a classically trained singer, and has appeared onstage in professional productions of Chicago (as Billy Flynn) and Spamalot (as King Arthur).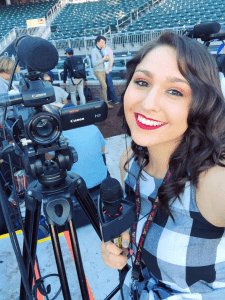 KATCY STEPHAN '16 is a producer at Access Hollywood in Los Angeles, where she appears on camera interviewing celebrities on red carpets. She previously hosted national livestreams for BuzzFeed News after receiving her Master's in Journalism from the University of Southern California ('17). Some of her PC credits include Marie Antoinette: The Color of Flesh (2015) and The Imaginary Invalid(2014).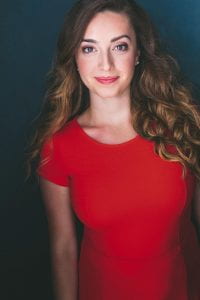 KATRINA Z. PAVAO '16 is a working actor in the New England area. Post the pandemic, she plans to finally make the big move to New York. In 2019, she graduated with her MFA from Boston Conservatory at Berklee and starred as Audrey in Little Shop of Horrors at Lyric Stage Company of Boston. For her work on the show, Katrina won the Elliot Norton Award for Best Actress in a Musical for the 2019/2020 Season. With some time on her hands, she is working on a directing project for an upcoming theatre company in Boston and is looking to begin her teaching career alongside performing.
PATRICK MARK SAUNDERS '13 Patrick Mark Saunders '13 is proud to return to Providence College as an adjunct instructor of theatre. In addition to teaching at PC, he serves as a guest director for Opera Workshop and has co-directed two productions for our MainStage season alongside John Garrity, The Illusion (2013) and Lord of the Flies (2019). Patrick received his M.F.A. in Acting from the University of Essex (East 15 Acting School), and while he was abroad he also completed an educational residency at Shakespeare's Globe in London. He has acted in productions with the Gamm Theatre, Wilbury Theatre Group, Ocean State Theatre Company, Trinity Repertory Company, and other local theaters. For his full resume, visit: pmsaunders.com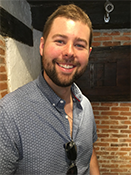 PAUL PERRY '10 is a Sound Designer and Audio Engineer living in Chicago, IL. Chicago design credits include: Le Switch (About Face Theatre, World Premiere), Plastic Revolution (The New Colony), Methtacular! (About Face Theatre), The Rocky Horror Picture Show (Underscore Theatre). Providence College design credits include: The Illusion (2013), Twelfth Night (2012), The Sweetest Swing In Baseball (2011) and he will be returning to PC to design Hamlet this winter. Paul is a resident Sound Engineer at the Chicago Shakespeare Theatre where he has worked for the last five years. He has also engineered at The Goodman Theatre, The Black Ensemble Theatre, Million Dollar Quartet Chicago, and The Looking Glass Theatre. Paul is a member of IATSE Local 2.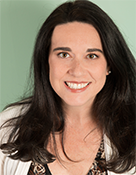 STEPHANIE (KRAUS) CARR '96 holds the position of Business Manager for Paper Mill Playhouse in Millburn, NJ (since the fall of 2014). Paper Mill Playhouse was the recipient of the 2016 Regional Theatre Tony Award; and currently has two shows that originated at PMP playing on Broadway in the 2017 Season: Bandstand and A Bronx Tale. A member of Actors' Equity, Stephanie occasionally continues to perform with Pushcart Players, NJ's touring theatre for young audiences, for whom she worked for 16 years prior to Paper Mill. She also serves as a professional church cantor and soprano soloist. Stephanie lives in Morris County, NJ with her husband, Robert Carr (of the New Jersey Theatre Alliance), and daughter, Sabrina.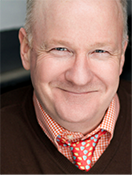 Wally Dunn '82 has been performing on Broadway, television, and films for over thirty years since graduating from PC. His Broadway credits include The Iceman Cometh (with Nathan Lane) at B.A.M., Spamalot, Gypsy (Bernadette Peters), One Mo' Time, Master Class. National Tours: West Side Story, Spamalot, All Shook Up, Master Class. Off-Broadway credits include Roundabout, Vineyard, Theatre for a New Audience. Regional: Goodspeed, Hangar Theatre, Williamstown Theatre Festival, Cleveland Play House, Hartford Stage, Paper Mill Playhouse, New Jersey Shakespeare Festival, Pittsburgh Public, McCarter Theatre, New York Stage & Film, Geva. Film: The School of Rock, In & Out, In Dreams, The Opportunists, 24 Hour Woman, The Good Shepard. TV: 30 Rock, The Carrie Diaries, Law & Order, Law & Order: SVU. In summer 2017, Dunn performed in the Cape Playhouse production of Gypsy.
Theatre Alumni, to be added to our mailing list or to send us an update for this page, please email aboyd1@providence.edu. We'd love to hear from you!
More from our alumni!
David Barbour '79 is editor of Lighting & Sound America, a monthly trade publication covering technology in live entertainment, including Broadway, concert touring, corporate events, theatre architecture, houses of worship, and more. He reviews theatre for the magazine's web site. He is co-president (with Charles Wright) of the Drama Desk. He is a member of the nominating committee for the Henry Hewes Design Awards and recently completed a stint as a judge for the Obie Awards. He edited A Theatre Project, a memoir by Richard Pilbrow, the noted lighting designer, producer, and theatre consultant, and is currently working with him on a book about London's National Theatre.
CHRISTINE CESTARO '11 currently working as a Writers' Assistant for The Tonight Show Starring Jimmy Fallon. After graduating from the Theatre program at Providence College she landed her dream job as an NBC Universal Page as part of their East Coast Page Program. She happily donned a gray suit and peacock pin. This lead to her next post-graduate job at Late Night with Jimmy Fallon a year later. She has not worn any blond wigs since Gypsy (2011). Her other PC Credits include Charley's Aunt (2008) and Talk Radio (2010). She was also part of the Wardrobe Running Crew for Waiting for Lefty (2009) and Romeo and Juliet (2010).
Sarah Elizabeth Bedard '09 received her MFA in acting from Brandeis University in May 2014. She can currently be seen in the Gloucester Stage Company's production of A Measure of Normalcy. Recently, Sarah participated in The Boston Theatre Marathon's Warm-Up Lap (Huntington Theatre Company's Hair of the Dog), workshops at Boston Playwrights' Theatre as well as the Mad Dash. Sarah is a freelance fight choreographer (Company One, Brown Box Theatre Project, Brandeis University), a director at Stoneham Theatre's Young Company, and a theatre educator with the Massachusetts Educational Theatre Guild, playing the role of Maire in Brian Friel's Translations produced by Bad Habit Productions at the Roberts Theater, Calderwood Pavilion in the Boston Center for the Arts. Other favorite previous credits include Company One's Shockheaded Peter, Actors' Shakespeare Project's Phèdre (Ismene), Berkshire Theatre Festival's A Christmas Carol (Belle/Mrs. Cratchit), Shakespeare & Company's Dibbledance SWAY, Mettawee River Theatre's Taliesin, Boston Public Works' Three (Jenni), Bad Habit Productions' Translations (Maire) and Arcadia (Hannah).
Carolyn Blais '07 lives and works in Los Angeles, currently pursuing comedy. She has studied improv and sketch at iO West, UCB, and The Groundlings. Carolyn performs every month with her sketch team, Animal Style at the iO West and occasionally with her improv team, The Edge, who were finalists in the 2012 LA Improv Festival. During the day, Carolyn is a manager at Theater Drect Inc. — a company that sells theater subscriptions for LA area theaters. She has done a little bit of work as an actor in such things as a fast food commercial, a soap opera, a court show (yes, they're scripted), a few music videos and plays. Recently, Carolyn submitted a pitch for a sitcom for NBC's Comedy Playground, and she is currently developing a web series with her writing partner. Despite her current pursuits in the world of TV and film, theatre will always be her first love!
Amanda Blake Davis '98 has been a writer, improvisor and sketch comedienne in Chicago for the last decade. She has performed with the famed Second City Theatre in their National Touring Company, the Las Vegas stage and the resident company The Second City etc, where she won a Jeff Award for Best Actress in a Revue for Studs Turkels Not Working. She improvises with Virgin Daiquiri and Baby Wants Candy and co-wrote the original musical Broads on Boards, produced by the Annoyance Theater. Most recently, Amanda is credited for writing the music and lyrics for Fifty Shades! The Musical: The Original Parody, Now playing in New York City. She resides in Los Angeles.
John Bowab has achieved great success in New York and Los Angeles, both as a director and a producer of television and theatre. Most recently he directed the World Premiere of Rest, In Pieces starring Marcia Wallace, the 2 year Off-Broadway run of My Mother's Italian, My Father's Jewish and I'm In Therapy, the National Tour of Legends starring Linda Evans and Joan Collins, and The Night of the Hunter (book and lyrics by Stephen Cole, music by Calibe Richardson), which opened at the Willows Theatre in Concord California.
In recent years to benefit The Actors Fund he has directed and co-produced along with Martin Wiviot The Monday Night Concert Series at the world famous Pantages Theater in Los Angeles paying tribute in May of 2011 to the music of Billy Barnes, preceded by the 90th Birthday Celebration of Carol Channing just to name a few.
Melissa Bowler '05 is a communication consultant, speaker, and teaching artist who specializes in applied uses of improvisational comedy. 'Connecting Through Comedy,' a program she developed, has taken her across the country with keynotes, workshops, and consultations where she has taught folks to better understand their brains and habits with comedy. This program, originally developed to help people in sales with creativity, has grown to include modules in unconscious bias, anxiety, and empathy. She has worked with a variety of industries including medicine, engineering, teaching, and food service. Melissa is also the co-founder of the Providence Improv Guild, a school and venue specializing in improv comedy and creating work for artists.
Kenny Carnes-Beaupre '94 is a performance poet and creator of the play Pieces of War which he has toured throughout the United States. He is currently working in collaboration with the Office of Senator Jack Reed, Brown, the VA and the Veterans Task Force of RI to use theatre as a means to generate public awareness of post-war recovery issues, and to assist with the transition of Rhode Island war veterans suffering from PTSD upon their return from Afghanistan.
Richard Brundage '81 recently played Ken Gorman in Neil Simon's Rumors at the Broward Stage Door Theatre, where success led to the role of Cap'n Andy in the theatre's holiday production of Show Boat. He has signed to play lead roles in Noises Off, The Fantasticks, Sherlock Holmes: The Final Adventure, and a new play called The Unicycle Of Life at the Winnipesaukee Playhouse (NH) for summer 2013. This is Richard's fifth consecutive summer with the Playhouse.
Jillian (Byard) Merrill '08 currently resides in Maine and is a full-time Primary School teacher. She has worked several summers in the Box Office for the Theatre at Manmouth. She also has directed and produced a variety of performances for a local high school theatre program. She also teaches creative movement and dance for a local dance center.
Brendan Byrnes '92 Brendan was in the Off-Broadway production of the new play, Pyramid of the Sun at the Hudson Guild Theatre, NYC, Nite-Club Confidential at Sierra Rep in Sacramento, CA., The Screams of Kitty Genovese at the Theatre at St.Clements as a part of The New York Musical Theatre Festival, NYC. He also has a recurring role in the HBO television pilot Say Uncle and can be seen in the Disney film Enchanted, opening November 2007. Brendan also had the pleasure of returning to PC in the spring of 2005 to direct and choreograph Brigadoon, the inaugural production at the Angell Blackfriars Theatre in the new Smith Center for the Arts.
Jesse Cardozo '07 worked for ShowMotion, Inc, one of the foremost scene shops in the industry. In addition to constructing Broadway scenery, ShowMotion also built themed architectural interiors as well as automated platforms. ShowMotion and Jesse have worked on projects including Jersey Boys (Broadway, Tour, Las Vegas), Rock of Ages (Broadway, Tour), The Marquee Nightclub at the Cosmopolitan Hotel (Las Vegas), Mohegan Sun: Casino of the Wind, and many others.
Ted Boyce-Smith '11 is a New York City based lighting and projection designer for Theater, Opera, Dance and Events. Some of his recent credits include: And Then They Came For Me (Alabama Shakespeare Festival, Montgomery, AL), Conway (Theaterlab, NYC), The Album: Here There Are Blueberries, (Workshop Production / Tectonic Theater Project), Red Speedo, Baltimore and Rage (Quinnipiac University), Anything That Gives Off Light (The TEAM & The National Theatre of Scotland, US Tour / Off Broadway), Hadrian & Antinous (Lenfest Center for the Arts, NYC), Trouble in Mind (AADA, NYC), An Evening With Renée Fleming (Michigan Opera Theater, MI), Uncle Vanya (The Cutting Ball Theater). Recent associate design: Circle Jerk Live! (Mitu580, PJ/LD: David Bengali) Spongebob Squarepants The Musical (Broadway, PJ: Peter Nigrini), Eugene Onegin (Michigan Opera Theater, LD: Robert Wierzel), We Shall Not Be Moved (Opera Philadelphia, The Apollo & The Dutch National Opera, LD: Robert Wierzel). Ted holds an MFA in theatrical design form New York University's Tisch School of the Arts and is a member of United Scenic Artists Local 829. For more information please visit www.tedboycesmith.com
Christine Cestaro '11 currently works for The Tonight Show Starring Jimmy Fallon. After graduating from the Theatre program at Providence college she landed her dream job as an NBC Page. She happily donned a gray suit and peacock pin, which lead to her next post-graduate job at Late Night with Jimmy Fallon. She has not worn any blond wigs since Gypsy (2011).
Katie (Cheely) Wasserman '04 Katie's "UnCovered Theatre Company" presented its first show as a Chicago company in June 2011. Sister Calling my Name by Buzz Mclaughlin was a Chicago premier, performed at the Trap Door Theatre. UnCovered's next production The Disorientation of Butterflies will be another Chicago premiere. It is a 6-person musical drama that was featured at the 2011 New York International Fringe Festival, a production of The Present Company. UnCovered Theatre Company was founded by MFA students while studying at Regent University in 2008. They have branches in both Chicago and Detroit and have produced shows in 7 states, and are currently working on their sixth production. The Company's mission is to offer hope and uncover the beauty, truth and goodness in human lives.
Nicholas Cipriano '08 currently works as Senior Broadcast Studio Manager for Fresenius Medical Care, after working many years in a video and television production capacity for Lax Sports Network. After graduating PC, he provided costuming, lighting and stage management for a production of Dramma Sacro di Santa Giocondina, a passion play produced by the Pontelandolfo Italian-American Community in Waterbury, CT. He can be seen acting and volunteering regularly at the Footlight Club in Boston, MA, where in 2019 he earned a nomination for a DASH award (Best Supporting Actor) for his work in Blood Relations.
Vincent Clark '74 made his professional debut in 1975 appearing at Olney Theatre in The Show-Off by George Kelly. Vincent is a member of the Acting Company of the Washington Stage Guild, a small Equity theater company in Washington DC , where he has appeared in: Major Barbara, Too True to Be Good, Heartbreak House, Man and Superman, Aristocrats The Play's the Thing and Steve Martin's The Underpants among many others. His most recent performances have been in Mawby Green's and Ed Feilbert's translation of George Feydeau's 13 Rue de L'Amour (May/June, 2007), and the area premiere of Michael Frayn's Democracy (July/August, 2007), both at Olney Theatre. Even though more than three decades have passed since graduating, Vincent considers the friendships made while doing theatre at PC to be among the most enriching and enduring of his life.
Elizabeth Clark '06 is a writer who most recently staffed on the Netflix series, Spinning Out, a drama about competitive figure skating. Prior to that, her original pilot Intended landed on We4She's 2018 annual WriteHer list, which features 10 of the best unproduced pilots written by women. It was immediately optioned by Participant Media, where it is currently in development. Elizabeth's play FRACTURED, about a family with a special needs son, has been workshopped in both New York and LA, led by a wildly talented cast including Lizzy Caplan, Bill Irwin, Alison Brie, Bellamy Young, John Glover, and Sarah Steele. Elizabeth is a former actor who has appeared on "The Mindy Project" and "Criminal Minds," as well as on stage at The Williamstown Theatre Festival and La MaMa e.t.c. She has written for Maria Shriver's website and The Huffington Post, where her article about the "R word" made the front page of the entire blog. She was featured on the CBS Evening News for her decision to freeze her eggs while still in her 20's and spent time lecturing on college campuses about the importance of bringing early fertility education to young women across the country. In 2016 Elizabeth and her wife Lauren Pomerantz started the #KeepAmericaKind campaign. The project lasted every day for one year and reached all fifty states leading CBS Sunday Morning to do a profile on the campaign.
Patrick Cohen '01 is currently living and working in Los Angeles, CA. He has worked at number of regional theatres including Long Wharf Theatre in Connecticut . He has done plays Off and Off-Off Broadway, as well as several independent films. He starred in a hit web series entitled We Need Girlfriends and My Future Girlfriend which can be seen on Youtube, Myspace, or as a podcast on iTunes. Patrick has also appeared in TV shows including NCIS, Criminal Minds, Community, Scandal, Chuck, One Life to Live, and will appear in the upcoming TV move I Will Always Love You: The Whitney Houstin Story directed by Angela Basset.
Ted Deasy '87 has appeared in productions in New York and at regional theatres throughout the country including: Oregon Shakespeare Festival, Syracuse Stage, Indiana Rep, Delaware Theatre Company, GeVa Theatre Company, Utah Shakespeare Festival, Idaho Shakespeare Festival and Milwaukee Repertory Theatre.
Jeff DeSisto '13 is at the University of Connecticut where he is working towards receiving his MFA in Acting. The program allows him to get equity points at the school's partner theatre, Connecticut Repertory Theatre, where he played Flute in their production of A Midsummer Night's Dream and Sebastian in Twelfth Night. Previously, he appeared in a number of plays at Warren RI's 2nd Story Theatre.
Caitlin (Doyle) Hughes '07 is currently working at Fairfield University as the Department Coordinator for the Department of Visual and Performing Arts. At Fairfield, she is also working as the graduate assistant for the National Endowment for the Humanities Duke Ellington and the Development of American Popular Culture Summer Workshop. Caitlin also teaches dance at the Bridgeport public schools through the "Music for an Urban District" program sponsored by the U.S. Departmentof Education.
Devin Driscoll '08 was recently featured as "Angus McGuffie" in the 2008 Oregon Festival of American Music production of Lerner & Loewe's Brigadoon .
Wally Dunn '82 has been Councillor at Actors' Equity Association since 2005 and is currently in the Broadway production of Monty Python's Spamalot performing the role of Sir Bedevere. He performed the same role in the Las Vegas and US Tour productions. Prior to that he was in the 1st National Tour of All Shook Up and had roles in the feature films The Good Shepherd and School of Rock.
Melissa Fallon is a SAG and AFTRA actress. She co-produced a film in 2009 that received two awards from the Coney Island Film Festival and the New York International Independent Film Festival.
Liz (Figlock) Gonsalves '83 received her Ph.D. at Boston College and has been the department head for English Language Arts at Abington High School in Abington, MA since 1996. Liz is also the advisor of SAM, the AHS Student Arts MAgazine. She was the host of A Very Open Mic Night, PoetryOutland, and Massmouth at AHS and as a judge for the local ESU Shakespeare Competition at Coyle and Cassidy High School in Taunton, where PC Alumna Carol (Caufield) Mecca '83 is the head of the Fine Arts Department.
Dan Foster '79 directed Outside Mullingar at the Hudson Stage Co. in the spring and this summer directed Other Desert Cities at the Nantucket Theatre Workshop.
Christine (Gillespie) Facer '91 has moved back to the United States from England and recently played Agnes in a summer theatre production of Dancing at Lughnasa.
Kelly Grill '87 is a founder and the Executive Director of the Hopkinton Center for the Arts in Hopkinton Massachusetts. Kelly oversees the Center's arts programming, and activities in development. Prior to HCA, Kelly was the executive director of Enter Stage Left Theater, the HCA's resident theater group, for nearly eight years. She loves all arts but particularly the theater. "It connects people in a way that no other art form can," she says. Kelly is a native of Hopkinton who graduated from Hopkinton High School before getting a B.A. in theatre at Providence College. After college, she moved to California where did some acting and then launched a 20-year career as a corporate recruiter, before moving back to the area in 1993
Carl Gudenius '80 is professor of design in the Department of Theatre & Dance at George Washington University in Washington , DC and heads their graduate program. He owns a fabrication shop called Pro-Scenic, Inc. which produces scenery for theatre, television and corporate events. In the fall of 2006 he returned to Providence College as a visiting artist and designed scenery for the TDF production of Amadeus.
Katie Hughes-Pucci '06 is a RI-based writer with an M.F.A. in creative writing from The Newport MFA at Salve Regina University. Her writing appears in The Millions, McSweeney's, Slackjaw, and The Belladonna Comedy. Katie lives in Cranston with her husband Joe, Dottie the Cat, and Scruffy the Dog. katiehughespucci.com
Patti Hughes '01 is teaching and directing high school theater at Westford Academy in Westford, MA. She teaches Intro to Stage, Advanced Acting, Public Speaking, Directing, and Female Playwrights. Hughes continues to act in community theater throughout the Boston-Metrowest area.
Adrienne Johnson-Lister '05 is the Managing Director of Santa Monica Repertory Theater, and Stage Manages for AMDA College of the Performing Arts, Los Angeles. Highlights of her PC career include calling the inaugural show at the Smith Center for the Arts, and getting to sit in the Red Sox dugout for the filming of Fever Pitch, directed by the Farrelly brothers
Malika Jones '10 After graduating PC, I spent a year at Becker College in Worcester MA as the Director of Student Media & Film launching and producing content for their broadcast TV station – HawkTV. I then spent 4 years at TBWA Chiat Day in Los Angeles doing broadcast production for Nissan, Apple, Gatorade, Jimmy Dean, Crate & Barrel, and Energizer. Now I am working at Team One in Los Angeles producing commercials for Lexus and freelancing as a copywriter for non-profit and social action organizations.
Nicole Kempskie '95 has worked extensively as a writer, theater artist, and educator in New York City and Boston. Her musical Helen on 86th St., with composer Robby Stamper, premiered in New York City in 2011. The one-hour school edition is published and licensed through Playscripts, Inc. and has been performed across the country and internationally. Other musical collaborations with Stamper include The Order of Things, It's About Time, and multiple children's musicals produced at Brooklyn Children's Theatre, which she co-founded and served as Artistic Director of from 2004-2011. She has published over fifty theater and film educational resource guides for Brooklyn Academy of Music and Lincoln Center Theater that include works by Beckett, Pinter, Odets, Ibsen, and Shakespeare. Her work has been supported by fellowships, residencies, and mentorships with Stowe Story Labs, The Marble House Project, The Off-Broadway Alliance, and the Noepe Center for Literary Arts. Awards and recognitions include: finalist for the Kleban Prize for lyric writing; International Family Film Festival Screenplay Winner, International Screenwriter Association Fast Track Fellowship Top 6, London Film Awards Screenplay Finalist, Inroads Screenwriting Fellowship Finalist, Final Draft Big Break Quarter-finalist (all for Helen on 86th St.), and Table Read my Screenplay Semi-finalist (for Co-op). She holds a Master's degree from the Gallatin School of Individualized Studies at New York University and is pursuing an MFA in Fiction Writing from the Solstice MFA Program at Pine Manor College.
Stephanie (Kraus) Carr '96 is both a working Mom to a 3 1/2 year-old little girl and currently serving as the Managing Director of Pushcart Players, an Equity Touring Theatre Company for young audiences based in Verona, New Jersey.
Rebecca (Kupka) Overton '95 Rebecca played Charity in Sweet Charity at the West Virginia Public Theater and Kathy Selden in Singing In The Rain at Lyric Theater of Oklahoma. She was a vacation swing in the Broadway company of Jersey Boys. Rebecca made her Broadway debut in Saturday Night Fever and performed leading roles in national tours of 42nd Street and A Chorus Line.
Justin Langin '00 attended the University of Miami 's prestigious graduate program in Motion Picture Production. He has completed three short films, one of which, The Ace of Pinecrest Falls, earned him the Best in Show prize at the University's Film Festival and a special screening on the Paramount Studios lot in Los Angeles .
Elizabeth Larsen-Silva '05 lives in Maine with her husband and two children. She works as a Senior Contract Administrator for Humphreys & Partners Architects. Her current theatre resume consists of sending funny Animoji videos to her nieces and nephew.
Maggie McDonald Condon '81 has written and performed in her one women comedy, Dames of Our Lives. She recently performed it at Two River Theater in Red Bank, New Jersey and the 2016 Providence College Alumni Reunion Weekend.
Joe Menino '77 In September 2012 Joe played the King of France in the Arkansas Rep production of William Shakespeare's Henry V. Joe is based in New York. Other roles in NY include: Glyn Maxwell's Agamemnon Home, Art, Iphegenia at Aulis, Hapgood, No Exit, An Enemy of the People, I Have Before Me a Remarkable Document. Joe and his wife Kathy are Co-Artisitic Directors at the Phoenix Theatre Ensemble in New York City.
John O'Hurley '76 recently completed filming A Remarkable Life in Greece. He recently appeared on Broadway as Billy Flynn in the musical, Chicago . In March 2007 he began a run as King Arthur in Monty Python's Spamalot at the Wynn resort in Las Vegas . John can also be seen on television as the host of the popular game show Family Feud.
Chris O'Neil '91 holds a position with The Modlin Center for the Arts at the University of Richmond in Virginia. Mr. O'Neil is responsible for the center's facility management, business operations, and event logistics during 200 performances a year. He recently completed a Master's Degree in Non-Profit Studies at University of Richmond. Active in local nonprofit organizations, he is an executive member on the board of the Richmond Catholic Theatre.
Kathryn A. (Parrella) Calnan '94 has served as Director of Development since 2010 for Trinity Repertory Company, the Tony Award winning theater that was named State Theater of Rhode Island in 2013 in recognition of its 50th anniversary season. Previously, Kathy has worked as an Arts Fundraising Consultant for the Franklin Performing Arts Company, Director of Development at Providence Performing Arts Center, General Manager at New Repertory Theatre, Associate Managing Director at Yale Repertory Theatre, and (Interim) Manager of Theatrical Programming at The Kennedy Center. Kathy currently serves as a Class Agent for PC and co-chaired the class of 1994's 20th anniversary reunion and fundraising drive. She has her MFA in Theater Management from the Yale School of Drama and lives in Medway, MA with her husband Michael and their three daughters.
Bob Perry '78 performed in a number of productions during his four years at PC, including 1776, Rashoman, One Flew Over The Cookoos Nest and You Can't Take It With You. A couple of years after graduating, he joined the US Navy and retired this past October after 32 Years. He recently returned to the stage, completing a show in Boston for Wax Wings Production of The Last Days of Judas Iscariot as Judge Littlefield and reprized the role for Mad Hat Theater Company in Jan 2014. Bob also completed a Shakespeare showcase at Trinity Rep. as Angelo in Measure for Measure, with Fred Sullivan instructing. He is currently finishing his Fine Arts degree in Theater (Acting concentrate) at URI and was recently cast as Don Juan in Shakespeare's Much Ado About Nothing. "I am proof you can go back to the things you have always loved and wanted to pursue and make them come true."
Kyle Pinto '04 traveled throughout Italy in 2007 with a "Theatre for Educations" group, A.C.L.E. that sends native English speakers to schools in Italy . He now lives in Connecticut pursuing his Masters in social work.
Therese Plaehn '01 Earned her MFA from A.R.T.'s Institute with the Moscow Art Theatre at Harvard. She recently played Emily Webb in Our Town at the Huntington Theatre directed by David Cromer. Additional credits include Masha in Three Sisters, A (radically condensed and expanded) Supposedly Fun Thing I'll Never Do Again, after David Foster Wallace (Chocolate Factory dir. Daniel Fish), Gloucester Blue (dir. Israel Horovitz), Dancing at Lughnasa (Gallery Players), Tape (NYC revival); Paradise Lost (A.R.T. dir. Daniel Fish), Dying City (Stonington Opera House), The Well of the Saints (Sugan). Television credits include – Hatfields & McCoys (NBC), Blue Bloods (CBS), Onion News Network (IFC), Onion News Empire (Amazon).
Michael Propster '03 has been working professionally as an actor, splitting time between New England, DC,and New York since graduating from Providence College. Some favorite credits include: Orphans at Seacoast Rep, Lips Together, Teeth Apart at Bay Theatre, and Bob Cratchit in A Christmas Carol at Trinity Rep. Other theatrical credits include: Mabou Mines, Round House Theatre, Olney Theatre, Summer Repertory, Imagination Stage, Billy & Co., The Immediate Family, Amios, Group Lab, and the National Players. Film/TV includes: Twist of Fate, Greatest Mysteries, Accident Investigator, Feeding the Masses, and One Life to Live. Michael has an MFA from the Brown/Trinity Rep MFA Acting Program and volunteers with the 52nd Street Project. michaelpropster.com.
Troy Quinn '05 is quickly establishing himself as one of his generation's most versatile young artists. Lauded for his energetic and riveting, yet sensitive conducting, Quinn is in his fourth season as Music Director of the Owensboro Symphony Orchestra in Kentucky. He is also the Music Director of the Venice Symphony in Florida where he conducts both the classical and pops concert series. Quinn is also the former Music Director of the Juneau Symphony. Equally at home in the pops and commercial world, Quinn has performed and recorded with some of the most popular artists of our time, including The Rolling Stones, Barry Manilow, Josh Groban, Jennifer Hudson, and Jackie Evancho. In addition to his concert work, Quinn has worked extensively in the television and recording industry in Los Angeles, having made appearances on such hit T.V. shows as Fox's GLEE, NBC's The Voice, and The Tonight Show with Jay Leno while recording on films like The Call of the Wild and Indiana Jones and the Kingdom of the Crystal Skull. He serves on the faculty at the University of Southern California's Thornton School of Music and has previously served as a faculty member at Providence College.
Sarah Randles is currently stage managing a production with Rockville Little Theater in Rockville, MD and understudying the female roles. She is also assisting with set construction and lighting execution.
Mary Reagan '15 After a summer internship, I have been hired as the Executive Assistant at the Eugene O'Neill Theater Center in Waterford, CT. I have also been auditioning locally and I am thinking about possibly attending grad school in the future.
Amanda Kay Ritchie '10 is currently working at the two-time Tony Award-winning Eugene O'Neill Theater Center where she is the Program Administrator of the National Theater Institute, offering six undergraduate theater training intensives including the only opportunity for U.S. undergraduates to train at the famed Moscow Art Theatre School. In the last year, she has been instrumental in the launch of the National Music Theater Institute; an exhibition at the New York Public Library for the Performing Arts at Lincoln Center entitled Launchpad of the American Theater: The O'Neill Since 1964; and a new book The O'Neill: The Transformation of Modern American Theater published by Yale University Press. She has previously held positions with the John F. Kennedy Center for the Performing Arts (working for National Symphony Orchestra, Washington National Opera, Kennedy Center Honors, Mark Twain Prize for American Humor, and the Millennium Stage), the DeVos Institute for Arts Management, and Playwrights Horizons
Colleen Rosati '07 is the Creative Development Assistant at Disney Theatrical Group, directly assisting the Vice President of Licensing, Casting Director, Dramaturg and Literary Manager. She is also an adjunct assistant to the President and Senior Vice President of Creative Development.
Mike Sablone '98 Mike is the Producing Artistic Director of the Warehouse Theatre in Greenville, South Carolina, a job he started in 2017. The Warehouse is Greenville's premier professional regional theatre, where community engagement and education complement thought-provoking theatre experiences. Before joining The Warehouse he was a dramaturg for Center Theatre Group (Mark Taper Forum, Ahmanson Theatre, and Kirk Douglas Theatre) in Los Angeles. While there he was the dramaturg for Alex Timbers and Michael Friedman's BLOODY BLOODY ANDREW JACKSON and saw the musical through its development including productions at the Kirk Douglas Theatre and Public Theater to its run on Broadway at the Jacobs Theater. Other notable theatre world premieres include David Henry Hwang's Pulitzer Prize finalist YELLOW FACE (Mark Taper Forum); Matt Sax and Eric Rosen's hip-hop musical VENICE (Kansas City Rep, Kirk Douglas Theatre), which Time Magazine called "The year's [2010] best musical"; Culture Clash's PALESTINE, NEW MEXICO (Mark Taper Forum); John Belluso's HENRY FLAMETHROWA (Trinity Rep); Paul Grellong's RADIO FREE EMERSON (Gamm) and POWER OF SAIL (Warehouse Theatre). He has developed work at CTG, Portland Center Stage, South Coast Repertory, Trinity Rep, and the Denver Theatre Center. He spent five years as Director of Development for John Krasinski's production company Sunday Night, serving as the Executive Producer of Krasinski's THE HOLLARS and Co-Producer of the Gus Van Sant film PROMISED LAND.
Patrick Mark Saunders '13 is the current Theatre Director for East Providence High School. He has been acting in productions with theaters throughout Rhode Island, recently playing Guildenstern in Rosencrantz & Guildenstern Are Dead with the Wilbury Group Theatre. Since graduating from PC, where he received the Leonard Award and co-directed a mainstage production of The Illusion (Corneille/Kushner), he has been invited back to direct scenes for the Opera and Musical Theatre Workshop, serve as a props procurer for a mainstage production, and also coach a student through their Senior Capstone. He recently was cast in Ocean State Theatre's production of It's a Wonderful Life. Website: pmsaunders.com
Mike Scafati '96 teaches acting and filmmaking at The Meadowbrook School of Weston in Massachusetts. Mike has acted and directed in the International 48 Hour Film Project in Boston each spring, working with dozens of middle school students to make a movie in only 48 Hours. The School's most recent production, "King's Gambit" received Best of Boston honors for the second consecutive year, including three awards including "Best Special Effects." (Watch it at www.youtube.com/themeadowbrookschool.)
Chris J. Silva '03 is a proud alumnus of Providence College where he earned BAs in English and Music and, more recently, of Emerson College, where he earned an MA in Theatre Education. He serves as Fine Arts Department Chair at Bishop Connolly High School in Fall River, MA, where he teaches Theater, Film, Chorus and English Literature. Chris has directed and/or musically directed over 40 productions all over Southern New England. In 2000, he co-founded The New Place Players, a non-profit New England theater troupe, for whom he has acted, directed and served as the company's Chair. Chris also works as a composer and arranger. His musical version of A Midsummer Night's Dream, which he also co-directed, enjoyed performances in Swansea, MA; Bristol, RI; and New York City. Other compositions include scores for The Lock, The Bacchae and incidental music for Rhode Island College productions of Equus and Night, Mother. He has also served as a guest artist at Providence College, directing Sondheim's Company and the operetta Amahl and the Night Visitors. In addition to his theatrical credits, Chris has written and directed four films, one feature-length independent film and three award-winning shorts for the 48 Hour Film Project. His film Condolences earned Best Picture, Best Director and Best Musical Score, and represented Providence at the Miami International Film Festival.
Conor Tansey '05 toured the United States in the role of Tranio in Taming of the Shrew with The National Players based out of Olney Theatre Center in Maryland . He recently played Agent Hard in Point Break LIVE! – a parody based on the '92 movie Point Break – performed at the Milagro Theatre in New York City .
Dan Travers '08 has appeared in a variety of theatrical productions throughout Connecticut while he pursues a career in performing arts. Favorite performances include The Winter's Tale, Titanic, The Complete History of America (Abridged), Urinetown, and Much Ado About Nothing.
Richard Warner '73 taught acting at the University of Virginia for 30 years where he had the honor of coaching, among many others: Tina Fey, Ben McKenzie (Gotham, The O.C.), Sean Patrick Thomas (Cruel Intentions, Barbershop), Jason George (Grey's Anatomy, Station 19), Sarah Drew (Grey's Anatomy, Everwood) and Emily Swallow (The Mandalorian, Supernatural, The Mentalist). He was awarded the UVa's Outstanding Teacher Award, the Mayo Distinguished Teaching Professorship and was selected as an inaugural member of the University Academy of Teaching. As an active member of AEA and SAG-AFTRA, Richard studied In New York City with Michael Howard and performed at Manhattan Theatre Club, Chelsea Theatre Center, W.P.A. Theatre and Douglas Fairbanks Theatre. He has acted regionally in over one hundred roles in many prestigious regional theaters. Film credits include: Homer Benson in Steven Spielberg's Lincoln; Dr. Ezra Abbott in Ridley Scott's Killing Lincoln; Chester Bowles in National Geographic channel's Killing Kennedy; Vic LeClue in Patriot Son. Richard played the lead opposite Grey's Anatomy's Sarah Drew in the short film, Waking Marshall Walker and created the role of L.P. Everett for Homicide, Life on the Street. As a director, he has staged Hamlet, A Streetcar Named Desire, The Glass Menagerie, Hedda Gabler, Hay Fever, A Raisin in the Sun, Cloud Nine, Fuddy Meers, The Foreigner, A Man for All Seasons, Misalliance, Suddenly Last Summer, Six Characters in Search of an Author, Laramie Project, Lend Me a Tenor, Lost in Yonkers, Driving Miss Daisy, The Last Night of Ballyhoo and True West.
Peter Waugh '05 worked on a few regional productions in CT before moving to New York in 2006. After several years of auditioning and working on projects in and around NYC he decided to look into the non-performance side of the theatre world. Since 2011 Peter has worked for Broadway Inbound, a division of The Shubert Organization that is focused on selling tickets and Broadway experiences to the tourism and travel industry. Peter's role as Domestic Sales Manager has him seeing just about every Broadway and Off-Broadway production and then traveling all over the US and Canada promoting Broadway as a destination for travelers.