General Facilities Information
Scene Shop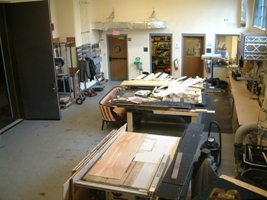 Scenery construction facilities include a 24' x 40' scene shop with tool lock up, paint area and technical director office. The scene shop has direct, same level access to the main stage.
Major Equipment

(1) Delta 10"  industrial table saw
(1) Delta 12"  industrial radial arm saw
(1) Milwaukee 8" panel saw
(1) Rockwell 14"  band saw
(1) Delta drill press
(1) Delta 12" variable speed wood lathe
(1) Porter cable 150 PSI compressor with assorted pneumatic nail guns
(1) Milwaukee port-a-band saw
(1) Rigid pipe threading equipment kit with accessories
(2) Genie personnel lifts 2 AWP 25S
(1) Genie Super Hoist model GH5.6

Load in Facilities

9'x14" exterior overhead door leading directly to scene shop
12' interior scene shop double doors leading directly onto mains stage.

Freight Elevator

Door opening 4'x8'
Interior 5'9"wide x 8'10" long x 8'10" high
Costume Shop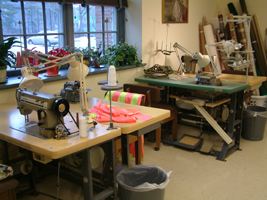 Costume construction facilities include a large well lit shop, fitting room/design studio, supervisor's office, and laundry. In addition, three large costume storage areas with elevator access to the costume shop are also located within the Smith Center. Costume shop equipment includes the following:
Industrial Sewing Machines:

(1) Singer Model 191D, traight-line single-needle lock stitch
(1) Singer Model 20u, artisan zigzag and straight stitch
(1) Singer 6120-01, high-speed 5-thread overlock
(1) Merrow M-3w, 3-Thread merrow stitch (serger)
(1) Chandler-Mark 60, Blindstitch machine

Home Sewing Machines:

(1) Viking Husqvarna 1250, multi-function includes embroidery and decorative stitches
(1) Bernina 803, straight stitch and zigzag

Other Costume Equipment:

(1) Naomoto MT1-517 Gravity feed iron
(1) Jiffy Steamer
(1) Maytag SAU-4 HD Washer
(1) Maytag SD-7 Dryer
(6) dress forms various sizes
Industrial deep sink
12' by 5' cutting table
Communications
Clear Com communication system with hard wired stations in wings, at gallery levels, in catwalks and control booths of both theatres as well as in the green room.
MS440 master at stage manager station in each theatre control booth
WBS 670 Receiver/transmitter for wireless operation
(15) cabled head sets with belt packs
(3) wireless headset belt packs
Green Room
Adjoining dressing rooms and equipped with audio and video monitor of both theatres and adjacent kitchen with sink, refrigerator and microwave.
Dressing Rooms
(2) Fourteen station dressing rooms with adjoining lavatory and shower facilities.
Box Office
Vendini electronic ticketing system.
Pianos
(2) Upright
(1) Electric