Theatre Degrees & Programs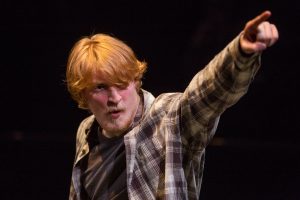 The primary goal of the Department of Theatre, Dance, and Film is the development of theatre artists.  It provides knowledge of and experience in the discipline of theatre, offering a foundation necessary for graduate study and continued professional development.  By developing theatre artists, the department directly enriches the life of the College through a program of public performances.
In keeping with the liberal arts foundation, the Department of Theatre, Dance, and Film is committed to providing its students with a thorough background in theatre history, theory, criticism, and literature.  This approach arises from the belief that in addition to developing proficiency in a variety of theatre crafts and performance techniques, the young theatre artist must understand theatre as an art which exists in a historical, political, spiritual, and economic context.
Since theatre is completed only when it has been communicated to other persons, the responsibility to develop and educate audiences, within the Providence College community and beyond, is incorporated into both production and classroom experiences.
Major/Minor
A major is offered in theatre which leads to the bachelor of arts degree.
A minor in theatre is also available.
For a listing of course descriptions detailed information on the and degree requirements for the theatre major or minor, please see the on-line undergraduate catalog.
Bachelors of Arts
Minor