June Dance Classes
Registration begins May 1, 2017! You can download and print schedule and registration form HERE!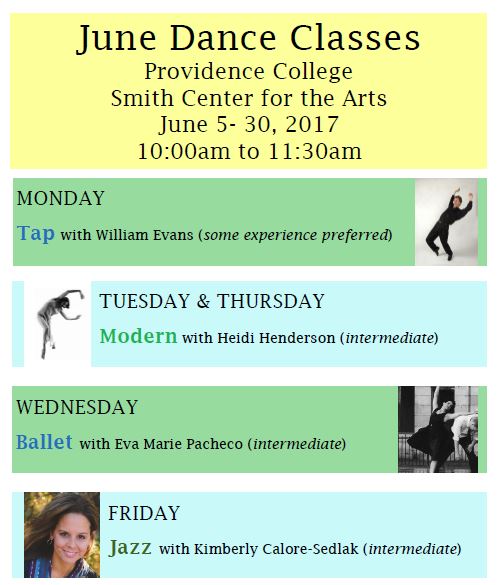 Registration begins on May 1, 2017. You will be able to download a registration form here at that time.
June Dance Classes Offered at Providence College
401.865.2327
Open to the Community
Here's a rare chance to get in a good solid month of dance with great teachers!  Daily dance classes will be available to the community from June 3-30, 2016 at Providence College.  Several outstanding teachers from around Rhode Island will be offering varied classes each morning in the Smith Center for the Arts on the PC campus.
Kimberly Calore-Sedlak is on the faculty at Salve Regina University with a focus in jazz and she is a company teacher/choreography at CDDS under the direction of Carolyn Dutra. Proud union member of The Actor's Equity Association, SAG/AFTRA, AGVA- some of her favorite credits include: Radio City Rockette (Ass. Choreographer & Dance Captain of 13 years), The Producers, Contact, Crazy For You, 42nd Street, Beauty and The Beast, The Tony Awards, A Christmas Carol, the PBS Special– Broadway: The American Musical, When In Rome, The Stepford Wives, several Las Vegas Productions and numerous commercials.
William "Bill" Evans is Artistic Director of the Bill Evans Dance Co. and the Bill Evans Teachers' Institute and Somatic Dance Conferences.  He currently teaches and choreographs at Dean College in Franklin, MA, and across the US. He is also visiting Professor of Dance Emeritus, The College at Brockport, State University of New York, as well as Distinguished Professor Emeritus of Dance, University of New Mexico.  Locally, his work has been seen at many venues including Brown, Providence College, Rhode Island College, and AS220.
Heidi Henderson is on the faculty at Connecticut College and at the Bates Summer Dance Festival in Maine.  She is the choreographer for elephant JANE dance, performing and choreographing throughout the region and beyond. She danced in the companies of Bebe Miller, Nina Weiner, Peter Schmitz, and Paula Josa-Jones among others. Her classes are groovy and large and messy.
Eva Marie Pacheco, a well-known RI choreographer, runs Providence Ballet and is artistic director of Providence Ballet Theatre.  She has taught at Roger Williams University, Brown University, Rhode Island College, Providence College, and Connecticut College.  Previously, she performed with Festival Ballet of Providence, Island Moving Company of Newport, and carolsomersDANCE of Boston, among others.
The class schedule is as follows:
Monday                           10:00 AM – 11:30 AM Tap (Some experience preferred) with William Evans
Tuesday/Thursday       10:00 AM – 11:30 AM Modern (Intermediate) with Heidi Henderson
Wednesday                    10:00 AM – 11:30 AM Ballet (Intermediate) with Eva Marie Pacheco
Friday                             10:00 AM – 11:30 AM Jazz (Intermediate) with Kimberly Calore-Sedlak
Dance classes are:
$80/8 classes
$44/4 classes
$12/single class
Students $7/class
Students $24/4 classes
Providence College is located between Admiral and Eaton Streets west of downtown. To find the Smith Center for the Arts, use the Eaton Street entrance, near the corner of Eaton and Pembroke Avenue. The Smith Center and parking lot will be on your left as you enter the gate.