Children's Dance
Dance Classes for Children at PC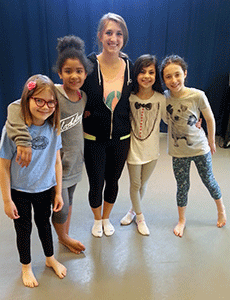 Since 1995, the Department of Theatre, Dance, and Film has offered dance classes for children on Saturday mornings. Classes are taught by PC students who have experience in teaching dance to children. 8 to 9 week class sessions are offered twice during the year; the fall session starts in mid September, and the spring session starts in late January. The cost is $40 for the session, with scholarships available to families with limited income.
Spring 2022 Announcement
We regret to announce that we will not be offering Creative Dance Classes in the Spring 2022. We're hoping to be back in the 2022-2023 Academic Year! Please watch this page for updates and announcements!
We miss our Creative Dance community of students and families and look forward to seeing you in the near future.
Questions? Email woliver@providence.edu.
General information on our dance classes:
Classes are generally small and friendly. Our instructors enjoy children and love to share their enthusiasm for dance with their students. The curriculum is planned to develop dance skills and concepts over a nine-week period. Each nine-week session is unique, so your child can repeat the class and still learn something new. At the end of each session, the children present a short, informal performance in the dance studio. This performance is free and does not require the purchase of costumes.
Creative Dance is taught in two groups, 4-5 year olds and 6-8 year olds.) The class teaches movement fundamentals while encouraging children to become contributors to the creative process. Classes work on rhythm, grace, strength, flexibility, cooperation, and creativity. Each action-packed class consists of activities which promote body awareness, technical competence, and knowledge of dance concepts. Creative Dance is equally enjoyable for boys and girls, because it values the individual movement styles of each student.
Musical Theatre Dance for 9-12 year olds. Children will learn jazz basics to improve coordination and flexibility. Each week, students will learn a short dance based on a different musical, including family favorites such as Beauty and the Beast, Lion King, and Wicked, and will also choreograph their own dances to songs from musicals.
For information about Creative Drama Classes for Children, please click here.
Please read before enrolling your child:
Class space is limited. Please send registration forms in early. This is a popular program, and enrollment is not guaranteed until registration is confirmed by this office. Confirmations will be sent out via email once classes are fully enrolled. We are unable to overenroll.
Please arrive early for class to ensure that you have time to find parking. Most Saturdays, there is convenient and ample parking next to the Smith Center for the Arts. We share the campus with many other organizations, departments and individuals. On those rare occasions, off campus on-street parking is available nearby.
Thank you for your understanding!
Classes are located in the Clark Dance Studio in the Smith Center for the Arts.
Thank you for your understanding!
E-mail woliver@providence.edu for further information.