Box Office
Ticket Orders
Box Office: 1:00-4:00pm Monday-Friday when classes are in session. Telephone: 401.865.2218
Tickets online: Tickets may be purchased online up to 24 hours before the performance time and may be picked up during Box Office hours. A service charge applies per ticket based on individual ticket prices. If you receive a message that tickets are "sold out" online, they are often still available at the Box Office. Please give us a call at the number above.
Buy Tickets Now
By Telephone: Visa or Mastercard only.
Walk-up: In person sales may be paid for by cash, check, PC Cash,  Visa or Mastercard.
By Mail: Checks made payable to Providence College TDF. Include title of production, date, number of seats, price, and a telephone number.
Mail to: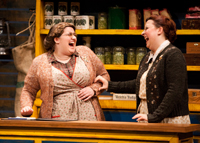 Box Office, Theatre, Dance & Film
Providence College
1 Cunningham Square 
Providence, RI 02918
ALL TICKET SALES ARE FINAL AND CANNOT BE REFUNDED 
Patron Information
Paid tickets can be held at the Box Office, or mailed to you if time allows. You may exchange your tickets for a different performance of the same production by returning your tickets to the Box Office up to 24 Hours prior to curtain, subject to seat availability.  To be placed on our mailing list  call 401.865.2218 or visit our mailing list page.
Events in the Smith Center are accessible to persons with disabilities. If you are a person with a disability and require an assistive device, service, or other accommodation to participate in this event,  please contact the Central Reservations Coordinator (401-865-2070; M-F 8:30 a.m. – 4:30 p.m.) well in advance of this event.
Directions to the Smith Center from Eaton Street Gate
The Providence College Eaton Street gate will lead you to the Smith Center, the large brick building to your left as you enter the gate.  For convenience sake, if you are using GPS, use #61 Eaton Street as the destination address for the gate. If the gate arm is down, use the intercom and Security will open it for you; tell them you are here to attend a performance or visiting the Box Office in the Smith Center. Once you enter the gate, you can park in any of the parking lots. If you are dropping off passengers, continue up the driveway between the buildings to your left, circling counter-clockwise around the quad and stopping in front of the Smith Center, at the main entrance. You can then return to the parking lots. Use the main entrance to the Smith Center for the Box Office as well as for all events.
Map of the Angell Blackfriars Theatre
To view the seating arrangement, entrances and exits, and accessibility for the theatre, follow this link to download a Adobe PDF File.
Map of the Bowab Studio Theater
To view the seating arrangement, entrances and exits, and accessibility for the theatre, follow this link to download a Adobe PDF File.
This seating arrangement is from the Spring 2016 performance of A Midsummer Night's Dream.
Note: These charts are for reference only.